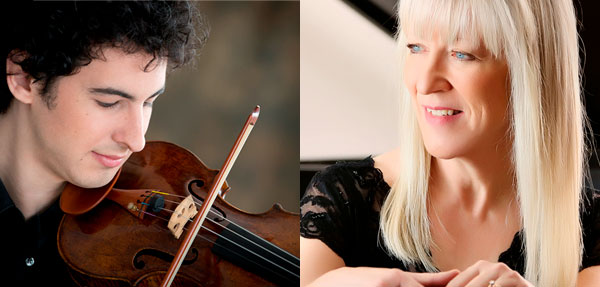 Sunday, April 23, 2017 at 2 p.m.
(1 p.m. brunch)
Violinist Itamar Zorman and pianist Pauline Martin perform an evocative program entitled "Memories". Music of Dvořák, Ben-Haim, Tchaikovsky, Brahms and Zorman ("Homage to Charlie Chaplin").
Click Here to Purchase Tickets
Program: Memories
Brahms was often at his best writing compositions that deal with Nostalgia. Centered around his "Rain" Sonata for violin and piano, this program portrays memories of many kinds: memories of childhood, of happy times, of a lost friend and of a lost era. Please join us for an emotional journey down memory lane!
Dvorak – Songs My Mother Taught Me, op. 55 no. 4
Ben-Haim – Yizkor (Evocation)
Tchaikovsky – Souvenir d'un lieu Cher, op. 42
Brahms – Sonata in G major "Regen"
Chaplin/M. Zorman – Hommage to Charlie Chaplin (a medley of his film music for solo violin)
. . . . . . . . . . . . . . .
Join us at our new venue, the beautiful St. John Lutheran Church*. Nestled in a residential neighborhood in the heart of Farmington Hills, this light-filled space was designed with acoustics
in mind.
Be sure to arrive early to enjoy complimentary pre-concert refreshments, served from 1:00 to 1:30 p.m.
*Please note our New Venue:
St. John Lutheran Church Farmington Hills
23225 Gill Road, Farmington Hills, Michigan 48335
Click here to see the location on Google Maps.
Click here for directions.