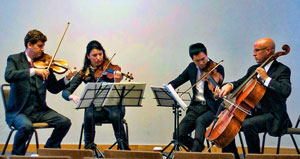 According to its passionate fans, the appeal of great chamber music is, in a word, intimacy.  One wonders how this can be achieved in a church sanctuary packed with 300 people.
But such was the case as violinists James Ehnes and Amy Schwartz Moretti, violist Richard O'Neill and cellist Robert deMaine took the stage to perform as one in the Michigan debut performance of the Ehnes Quartet on Jan. 6, 2013.
Seated shoulder to shoulder in the acoustically fine setting of Birmingham Unitarian church, it was clear to all that something quite extraordinary was taking place.
Terry Fitzpatrick was in attendance. He writes: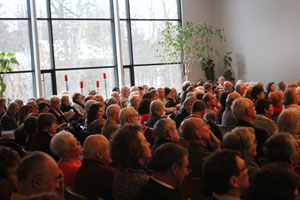 The audience in the sold out hall, during the quiet passages seemed to collectively stop breathing; such was the emotive power of the Ehnes Quartet.  One thinks not a single cough could be heard during the whole of the performance.  In addition, that response was drawn not upon the recital of known warhorses such as the late Beethoven quartets or the Schubert Death of a Maiden, but rather through the programing of somewhat lesser known works.  The effect of the afternoon was compelling and deeply moving.
A collective sigh was audible as James Ehnes announced the encore: the sublimely beautiful Adagio from Barber's String Quartet.
Indeed, the musicians themselves were aware of a special chemistry that afternoon, commenting on CSD's "wonderful audience" – which is (forgive the pun) music to our ears!
Another sell-out crowd was in attendance when the Ehnes Quartet returned in September of 2014.