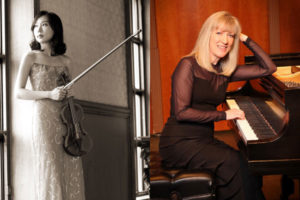 Chamber Soloists of Detroit is grateful to Dr. Stanley H. Levy, whose generous sponsorship of our inaugural concert is offered in loving memory of his wife, Rita S. Levy, lifelong chamber music patron.
Featured on Oct. 7 at 7:30 p.m. will be newly appointed Concertmaster of the Detroit Symphony Orchestra, Yoonshin Song, and pianist Pauline Martin. Immediately following the concert, Barbara and Bernard H. Stollman will host a benefit reception to meet the artists, also in honor of memory of Rita S. Levy, at their Bloomfield Hills home. Click here to purchase tickets.
"It is a great pleasure, indeed an honor, for me to sponsor Chamber Soloists of Detroit's opening concert of the season in memory of my wife, Rita S. Levy. Rita's passion for life and generous spirit were the underpinnings of our life together. While I was the primary beneficiary of her love and generosity, her limitless capacity to give spilled over to an ever-widening circle encompassing family, friends and the community at large.
Music was very much a part of Rita's daily life. And she worked assiduously over the years in support of musical organizations in the Detroit area. I am sponsoring this performance by the new Concertmaster of the DSO, Yoonshin Song, and CSD Artistic Director, pianist Pauline Martin, both to commemorate Rita's life and to bring music into the lives of others in the Detroit community.
I wish Chamber Soloists of Detroit great success in the coming years. It is my fervent hope that a Rita S. Levy memorial concert will be a part of CSD's future."
-Stanley H. Levy