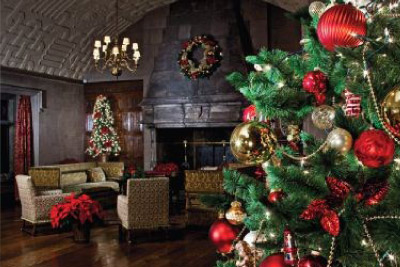 Gift idea: Edsel & Eleanor Ford House in holiday splendor, with Chamber Soloists of Detroit on Thursday, Dec. 5
Greetings to our CSD friends!
The holidays are fast upon us.
If you are looking for that perfect gift for a friend or loved one this season, consider an escape down memory lane in the magical setting of Edsel & Eleanor Ford House, starting with an elegant dinner and horse drawn carriage ride on the grounds of this historic local gem.  Take some time to stroll the mansion, decorated for the holidays, before settling in to enjoy an intimate concert in the ballroom with Chamber Soloists of Detroit and special guest James Hartway.
An interesting point of trivia: awed, years ago, by this magnificent estate on the shore of Lake St. Clair (her Canadian homeland just across the water), pianist Pauline Martin thought to name her exciting new ensemble – with (then) new Detroit Symphony Orchestra concertmaster Emmanuelle Boisvert (also Canadian) and Grosse Pointe resident, Assistant Principal Cellist Marcy Chanteaux – the St. Clair Trio.
This evening's program features the first piece of music ever recorded together as a trio with their good friend, composer James Hartway.
Please join in the festivities with Pauline and her talented colleagues, violinist Daphna Raz, cellist Una O'Riordan and flutist Dennis Carter.
Ticket availability is limited. For information and reservations, please contact Bernadette Banko at (313) 453-2031 or email: bbanko@fordhouse.org.