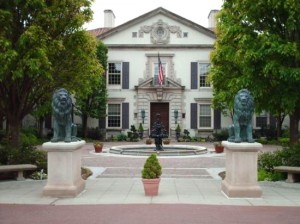 A spontaneous ovation and shouts of "Bravo!" from the capacity crowd prompted an encore by Chamber Soloists of Detroit artists on Sunday, January 4, 2015, following the debut concert of its Just Between Us series of Sunday Brunch concerts at the Grosse Pointe War Memorial.
The event opened with a gourmet brunch by Chef Angelo Lorio before guests experienced an intimate presentation of chamber music by Beethoven and Brahms and concluded with CSD's signature Talk Back – Just Between Us  – allowing audience members to pose questions to Boston Symphony French hornist Rachel Childers, Detroit Symphony violinist Adrienne Rönmark and CSD Artistic Director and pianist, Pauline Martin. According to Martin, the interactive nature of the Talk Back is "fun for us, as well as the audience. Guests are curious about things not typically addressed in a printed biography."
The idea for a CSD brunch concert series took flight following Martin's exploratory meeting last June with Grosse Pointe War Memorial CEO and President, Charles Burke, and Grosse Pointe resident Gloria Heppner, who was quick to pledge artist sponsorship for the first concert. In November, fellow Grosse Pointe residents Bill Kupsky and Ali Moiin opened their extraordinary home for an elegant in-house concert, raising funds to launch this unique new concert series. Held at one of the nation's most stunning historic landmarks, Just Between Us is also drawing the support of media sponsor WRCJ-90.9 FM, Detroit's premiere classical and jazz radio station.
A new Grosse Pointe ritual for chamber music fans is well on its way. Two more events, each featuring great food, fine chamber music and artist Talk Back, are scheduled this season:
Sunday, February 15, 2015
Chamber Soloists of Detroit . . . in duo
Acclaimed violinist Aaron Berofsky and pianist Pauline Martin present two
masterpieces of the violin-piano repertoire, Mozart's charming Sonata in G, K. 301 and the monumental Sonata in A by Cesar Franck.
Artists sponsored by Margaret Winters and Geoff Nathan
Click Here to Purchase Tickets
Seating is limited. Advance reservations required.
For more information please call (313) 332-4074.
---
Sunday, March 8, 2015
Chamber Soloists of Detroit resident artists
Violist Kathryn Votapek and pianist Pauline Martin
with special guest Nicolai Pfeffer, clarinet
Brilliant young German clarinetist Nicolai Pfeffer is a newly appointed faculty member of the prestigious Hochschule für Musik in Cologne.  Featured are best-loved gems for clarinet, viola and piano: Mozart's Kegelstadt Trio and Acht Stücke, Opus 83 by Max Bruch.
Artists sponsored by Wayne Chen
Click Here to Purchase Tickets
Seating is limited. Advance reservations required.
For more information please call (313) 332-4074.