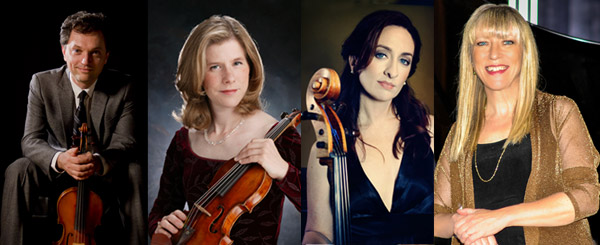 featuring : Aaron Berofsky, violin, Kathryn Votapek, viola, Úna O'Riordan, cello, Pauline Martin, piano
Grove Music Festival of Midland is pleased to present acclaimed violinist Aaron Berofsky, violist Kathryn Votapek, Detroit Symphony Orchestra cellist Úna O'Riordan and pianist Pauline Martin in a program featuring Piano Quartets by Mozart and Brahms as well as the delightful Madrigals for Violin and Viola by Bohuslav Martinů.
The quartet is part of the 2013-14 touring roster of the recently founded Chamber Soloists of Detroit, now celebrating its second season.
According to Artistic Director and CSD founder Pauline Martin, "CSD is committed to showcasing Michigan's finest!"
Grove Music Festival welcomes these outstanding Detroit and Ann Arbor based international musicians. Our festival audience can once again look forward to an exciting and engaging program.