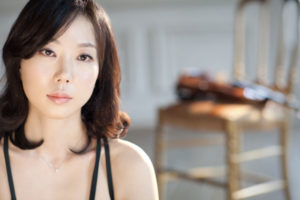 Yoonshin Song, violin
Pauline Martin, piano
Sunday, October 7th, at 7:30 p.m.
Rita S. Levy Benefit Reception to follow the concert.
AN AUSPICIOUS OPENING EVENT features Yoonshin Song, the brilliant young woman who this season assumes her position as Concertmaster of the Detroit Symphony Orchestra, in recital with pianist Pauline Martin. "A wonderfully talented violinist… [whose] sound and technique go well beyond her years," Yoonshin Song is the winner of numerous international competitions. Pianist Pauline Martin has earned world-class recognition for her "gripping" (Washington Post) solo and chamber music performances, including the prestigious Chamber Music America-WQXR award. The program will feature Sonatas by Brahms (No. 3 in d minor), Saint-Saens (No. 1) and Janáček, as well as Elliot Carter's Riconoscenza per Goffredo Petrassi.
Immediately following the concert, Barbara and Bernard H. Stollman will host a benefit reception to meet the artists and honor the memory of Rita S. Levy at their Bloomfield Hills home.
Sponsored by Stanley H. Levy in loving memory of his wife, Rita S. Levy