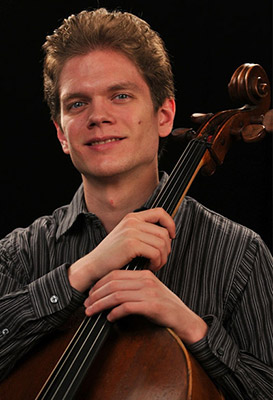 Cellist Erik Ásgeirsson has earned high praise from conductors, composers, audience members and critics alike for his "refined magic of tone colors…exquisitely beautiful melodies and enormous virtuosity" (Der Westen, Germany). The versatile young artist has been featured as soloist with orchestras in his native Michigan, Flor­ida and Germany, with several of his world premiere collaborations broadcast on German National Radio (WDR).
Ásgeirsson performed his Chicago debut recital on the prestigious Dame Myra Hess Memorial Concert series in 2015. In March of 2017, he was one of a select group of Lucerne (Switzerland) Festival alumni invited to perform in a series of events entitled Matthias Pintscher's Universe at the Elbphilharmonie Hamburg. Other credits include Italy's Amici Della Musica and Gustav Mahler Festivals, France's Festival Music Alp and Germany's "Romanische Nacht" Festival, Forum Neue Musik, Franz Liszt Akademie, Kölner PhilharmonieLunch series and Beethovenfest Bonn.
His appointment as Solocellist (Principal) of Philharmonie Sudwestfalen (Siegen, Germany) in May of 2017 followed two years as a member of the Staatskapelle Weimar Orchestra and Academy Fellowship positions in the Berlin Radio and Komische Oper (Berlin) Orchestras.
Ásgeirsson was known to Detroit audiences well before accepting a scholarship to attend the Eastman School of Music at age sixteen. The winner of numerous regional youth competitions, he became principal cellist as one of the youngest members of the Detroit Symphony Civic Orchestra. Formative studies with Paul Wingert and Erling Blöndal Bengtsson and summer programs with Philippe Muller (Festival Music Alp), Steven Geber and the late Orlando Cole (Encore School for Strings, Cleveland) culminated in a performance degree at the Eastman School of Music under the tutelage of Steven Doane, with an exchange year of study at Musikhochschule Freiburg with Christoph Henkel. Ásgeirsson was the first cellist to graduate with a master's degree in performance at the Hochschule für Musik und Tanz Köln, where he studied with Maria Kliegel, Frans Helmerson and Johannes Moser, concurrently teaching conversational English at Universität zu Köln.
Currently serving as European liaison of Chamber Soloists of Detroit, he appears regularly in recital with CSD Artistic Director, pianist Pauline Martin.
Born to Icelandic and Canadian parents, Erik Ásgeirsson is a citizen of three countries.