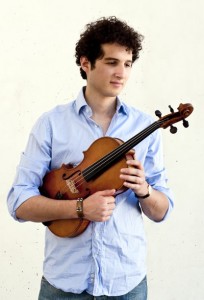 Born into a family of musicians, Jean-Baptiste Aguessy began playing the violin at age four. He studied with Patrick Chemla, Pierre Hofer and Jane Peters at the School of Music of his home city, Rouen. At seventeen, after only six months of viola study with Marie-Christine Witterkoër, he was admitted to the class of Jean Sulem at the Paris Conservatory, earning a master's degree in 2012. Here, Aguessy also studied chamber music with Vladimir Mendelssohn, Philippe Bernold, Marc Coppey and Haruko Ueda.
From 2007 to 2009, he was granted a full scholarship to study with Philippe Entremont and Diana Ligeti at the American Conservatory of Fontainebleau, France. He has also studied with Pauline Sachse (Music School of Dresden), Andreas Willwohl and Wilfried Strehle (Berlin), and participated in the masterclasses of Antoine Tamestit, Richard Wolfe, Tatjana Masurenko, Hartmut Rohde, Thomas Riebl, Miguel Da Silva, Garth Knox and Diemut Poppen.
An avid symphonic player, Aguessy joined musicians of the Vienna Philharmonic under Christoph Eschenbach at the 2007 International Orchestra Institute Attergau and was guest principal viola of the North Nederlands Orchestra in 2011. Since 2013, he has been performing in Berlin's Konzerthaus and Philarmonie as an Academy member of the Berlin Radio Orchestra (Marek Janowski, conductor).
Jean-Baptiste Aguessy is active internationally as recitalist and chamber musician, from trio to chamber orchestra. He has performed throughout France, including Paris venues, Invalides, Musée Marmottan, Eglise de la Trinité, concerts "Jeunes Talents" at Hôtel de Soubise, as well as Festival des Nocturnes de la Cathédrale de Rouen, Moments Musicaux de Chalosse, Rencontres Musicales de Chaon, Festival 1001 Notes en Limousin,  Musée en Musique in Grenoble, Festival Musical du Jaur and a Caribbean tour. He has also appeared in Spain (Encuentro of Santander), at St John's Hall in London, Théâtre Les Salons in Geneva, Kulturbrauerei in Berlin, Lake Chelan Bach Fest and Weill (Carnegie) Recital Hall in New York.
Also an advocate of the music of contemporary composers, Aguessy was featured in the world premiere of Jean-Baptiste Doulcet's Trio for Viola, Cello and Piano at "Festival 1001 en Limousin" and, in 2014, was invited to collaborate with German composer Wolfgang Rihm in his String Quartet No. 12.
Jean-Baptiste Aguessy currently teaches viola and violin in the Conservatoire Jacques Ibert du 19ème Arrondissement in Paris.