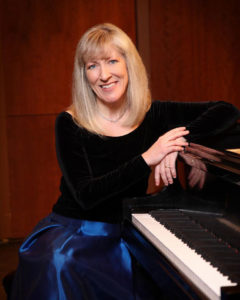 Pauline Martin's Washington debut captured the Washington Post headline Pauline Martin's Dazzling Debut. The Canadian born pianist continues to earn international recognition for her solo and chamber music performances, recordings and national broadcasts in Canada, the U.S. and Europe. Martin has been a featured performer and teacher at such festivals as the Sarasota (Florida), Summer Serenades (Maryland), Scandinavian Winter Days (Reykjavik) and Aria International Festivals as well as Michigan's Ann Arbor, Mackinac Island, Grove and Irving S. Gilmore Festivals. As concerto soloist, she has appeared with the Detroit Symphony Orchestra, the New American Chamber Orchestra and Orchestra London Canada, among others. She has recorded for the Naxos, Koch and CRS labels and, as founding member of the St. Clair Trio, is a recipient of the prestigious Chamber Music America/WQXR FM award for its outstanding CD "Old Acquaintances" (Koch) as well as a first-round Grammy nomination for "Hobson's Choice" (Koch). Other releases include "A Postcard from Europe" with clarinetist George Stoffan and the Naxos CD "Imaginary Creatures" (works by James Hartway). She currently serves as Artistic Director of Chamber Soloists of Detroit.
Pauline Martin earned B.M. and M.M. performance degrees from Indiana University, instructed by Menahem Pressler, and a D.M.A. from the University of Michigan, as a student of Theodore Lettvin, Gary Graffman and André Watts. She has served on the faculties of Wayne State, Oakland and Michigan State Universities and is in demand in the academic community for her performance related presentations.
Visit Pauline Martin's professional website www.paulinemartin.com.