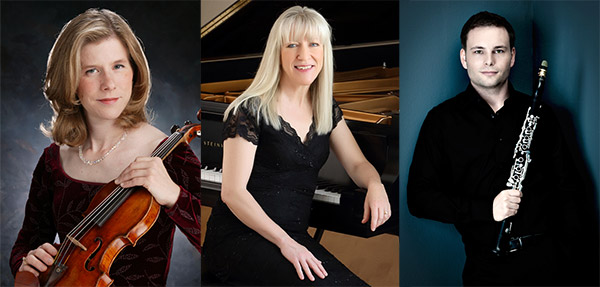 Chamber Soloists of Detroit resident artists
Kathryn Votapek, viola and Pauline Martin, piano
with Special Guest Nicolai Pfeffer, clarinet
Brilliant young German clarinetist Nicolai Pfeffer, newly appointed faculty member of the prestigious Hochschule für Musik und Tanz Köln, joined CSD artists Kathryn Votapek and Pauline Martin to close CSD's "Just Between Us" brunch concert series on March 8, 2015. The audience was treated to Mozart's "Kegelstadt" Trio for clarinet, viola and piano, Brahms' Sonata for Clarinet and Piano and romantic selections by Max Bruch, for which the group read from Nicolai Pfeffer's newly released edition. Said pianist Pauline Martin, "Sharing the stage with the editor was a first for me!" Paul Juon's beautiful encore left the audience wanting more.
"Super enjoyable and thank WRCJ tremendously for being a part of it and making it available to us. We will definitely return for others!" – Doris Jennings

Program:
Trio in E flat for Clarinet, Viola and Piano, K.498 by W. A. Mozart
Sonata No. 2 for Clarinet and Piano, Opus 120 by Johannes Brahms
Eight Pieces for Clarinet, Viola and Piano, Opus 83, Nos. 2 & 3 by Max Bruch
Artist sponsorship by Wayne Chen