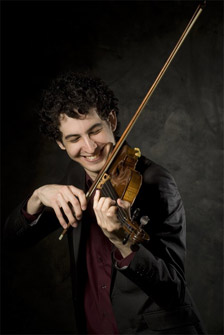 Violinist Itamar Zorman, 2011 Tchaikovsky
Competition prizewinner, will make his Detroit
recital debut accompanied by Artistic Director Pauline Martin on Sunday, March 9, 2014 at 3:00 p.m.  The program will feature two romantic gems – Johannes Brahms' masterpiece, the Sonata No. 3 in d minor and Sonata No. 4 by Brahms' contemporary Friedrich Gernscheim (a Michigan premiere performance) – with Bach's Solo Sonata in C and Maurice Ravel's fiery showpiece, "Tsigane".
The audience is invited to enjoy complimentary refreshments and conversation with the artists at CSD's signature Talk Back – Just Between Us – immediately following the concert.