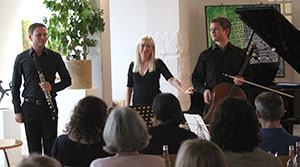 CSD artistic director, pianist Pauline Martin and cellist Erik Ásgeirsson were pleased to accept an invitation to perform on August 3, 2014 with German clarinetist Nicolai Pfeffer in the charming gallery, Kunststation Kleinsassen, near Fulda, Germany.
Nestled in the countryside minutes from the historic city of Fulda is the quiet village of Kleinsassen, home to one of seven in a co-op of galleries intended to be "meeting places for art lovers, artists and collectors." While chamber music concerts are a rarity in this picturesque space, the standing-room-only crowd generated such enthusiasm that a festival has been proposed for summer, 2015.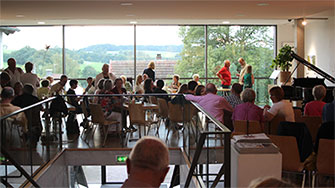 Works performed included Brahms' Sonata for Clarinet and Piano, selected Pieces for Clarinet, Cello and Piano by Max Bruch, Debussy's Sonata for Cello and Piano and the hauntingly beautiful "Fratres" for Cello and Piano by Arvo Pärt. A trio Miniature by Paul Juon was presented as an encore.